Context :
Sodimate provided three identical hydrated lime dry to slurry systems. They were for coal-fired power stations companies located in Kentucky (Louisville Gas and Electric Company (LG&E) and Kentucky Utilities (KU) at their coal-fired power stations (Mill Creek, Trimble County and Ghent) located in Louisville- Kentucky (USA). ) to help them upgrade their environmental performance, meet their business and flow needs and fulfill with regulation. (LG&E serves 324,000 natural gas and 407,000 electric customers in Louisville and 16 surrounding counties. KU serves 549,000 customers in 77 Kentucky countries and five countries in Virginia.)
Sodimate equipment
Our engineering team has integrated three ensuri pairs of Sodimate hydrated lime dry to slurry systems (one pair of silos per site). These sophisticated systems include mechanical bin activators,unde maximum discharge efficiency, chainwheel slide gates, metering screws, injectors, 600 gallon slurry tanks and centrifugal pumps underneath the silo cones.
Sodimate supplied this identical installation for the 3 sites :
2 skirted silos, 2,700 ft3 capacity with dust collectors and radar level transmitters
2 mechanical bin activators ZDM
2 handwheel slide valves asssembly
2 metering screw DDMR
2 wet isolation injectors
2 slurry tanks in carbon steel 600 gal with stainless steel mixers
2 water supply lines with valves of regulation
4 skids with centrifugal pumps assembled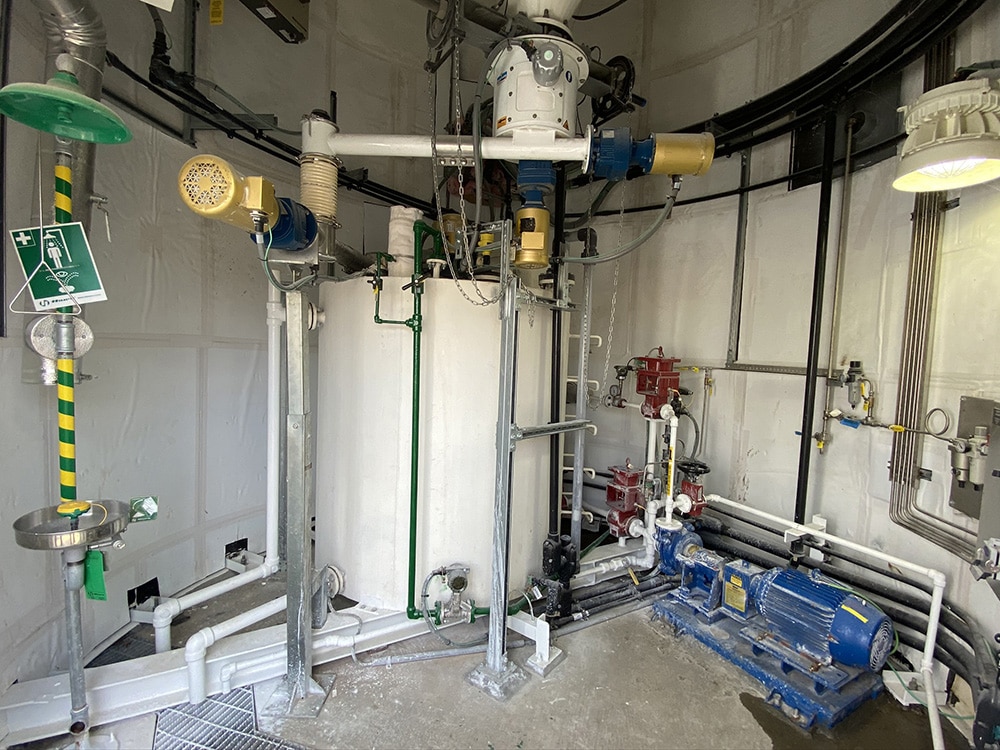 Performances reached
Sodimate designed its system for a dry injection of 5 tons per day. The lime slurry is pumped continuously into a loop system at 8.07 GPM, for a concentration of 10 %.