Sodimate has carried out numerous installations throughout the world for the injection of powdered reagents by means of hydro-ejectors.
The removal of T.O.C. (Organic Matter)
Removal of micropollutants such as pesticides
Algae removal
Improving the taste of water
Endocrine Disruptor removal (drug residue)
Removal of taste and odor generating products
Sodimate was entrusted with the complete management of the project including:
The storage of the reagent
Extraction and volumetric dosing by screw
Transfer and injection by pneumatic transfer
The automatic control system of the installation
Installation of equipment as well as start-up and training services for employees
The overall project was completed in 3 months, taking into account all customer requirements.
Example of micropollutant retention using activated carbon
Schema for an example of an injection of activated carbon in a drinking water plant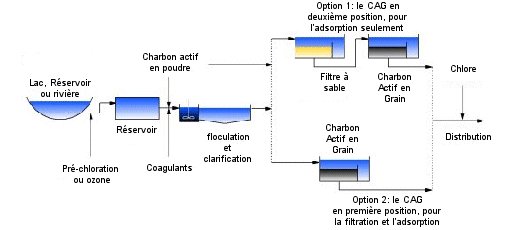 In order to overcome the problems associated with the injection of powdered activated carbon, Sodimate has developed a hydro-ejector injection system dedicated to drinking water and wastewater treatment plants. Hydro-ejectors are systems designed to mix a powder (B) and a fluid (A). The mixture of motive fluid and suction fluid (B) enters a second nozzle where the velocity is transformed into pressure to reach the discharge pressure (C).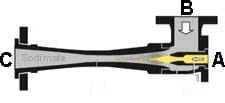 The hydro-ejectors are systems without any moving components, which means they are durable and low-maintenance. These systems are simple to operate and use. They can be made in all sizes and materials. Depending on whether the consumption of activated carbon is important, the reagent can be stored in:
Example of an installation under a silo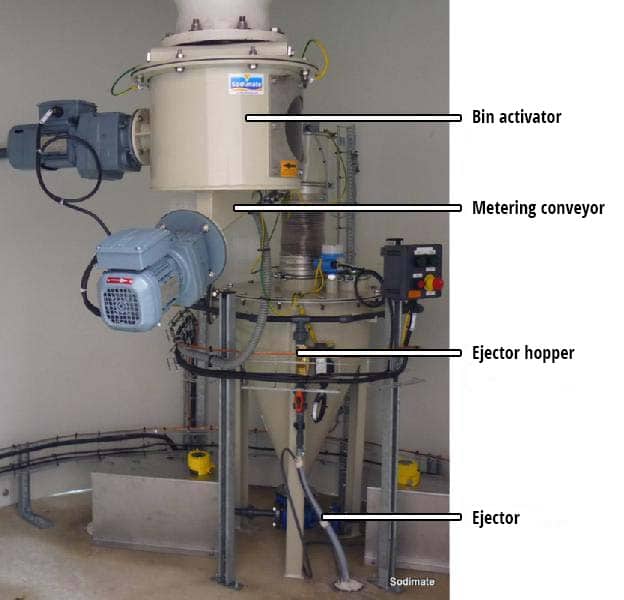 Example of an installation under a big-bag emptying stand
Our hydro-ejector transfer system can also be made in the form of turnkey skids with additional benefits, including:
Time effective assembly and installation.
On-board instrumentation
Possible pre-wiring of the instrumentation
Our system is also used for the transfer of microsand in wastewater or drinking water plants.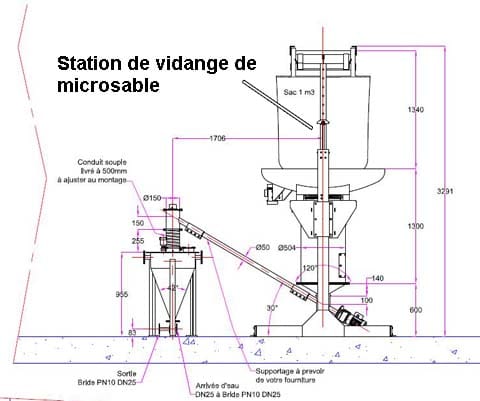 Example of microsand injection + schema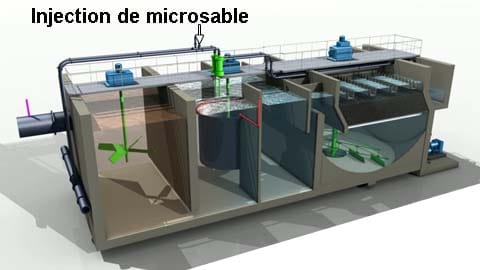 The water then passes through an injection basin where the polymers and microsand are introduced. The water then stays in the maturation chamber to allow the floc to bind to the microsand under the action of the polymer. The floc then acquires weight and volume. The settled water then flows through five filters consisting of a layer of sand followed by a layer of anthracite. At the outlet of the filters, the water then flows into the chlorine contact basins and finally hydrated lime is added and mixed with the filtered water to provide a PH correction. The treated water is then distributed to the city network.